Testimonials
Read more of our reviews on Houzz.com
Comment from the installer - "these are solid!"
I needed floating shelves for a three sided alcove in a client's bathroom. I couldn't find anything deep enough...Anyway, I found customfloatingshelves.com & placed an order for 4 shelves in rift sawn white oak. I soon got a call from the owner of the company, Billy, to discuss, & I apparently ordered wrong for my application, I needed "loose cleat 3 sides," & he explained exactly how I should measure. The shelves came from Florida to California and arrived earlier than the estimated date & they are beautiful! I will absolutely order from customfloatignshelves.com again because I am confident that I'll get exactly what I want/need and great quality!
Easy install
Got the bamboo and they are awesome. It was an easy install and they are very sturdy. Going to get some more for our great room as soon as the wife picks out the paint colors...
Beautiful shelves
Just got around to installing these after receiving them maybe 2 months ago. 5 shelves in total 3x48" and 2x36". Drilling through the metal bracket was intimidating at first so I procrastinated for a while. After the first install I realized it actually isn't all that difficult and knocked the rest out fairly quickly.

* Packaging was excellent. There was no doubt in my mind these shelves would be pristine when I opened the boxes.
* The way this is designed makes it easy to line up shelves on top of each other.
* The shelves themselves are beautiful, and didn't have a single imperfection that I can see (I ordered bamboo).
I can't recommend this company highly enough
I'm 70 years old and I have now purchased and installed four shelves from this company. The workmanship of the product is impeccable, the packaging for shipping is outstanding, The shelves arrive in perfect condition. Drilling the mounting bracket is a bit of a challenge, but with a little patience, it's not difficult. I'm not a contractor, yet the results I achieved are outstanding, very professional in appearance. I can't recommend this company highly enough. Don't hesitate to order from them, you'll be glad you did.
Outside corner shelves turned out amazing!
These shelves are amazing! Only place I was able to find outside corner shelves and they turned out great - Billy spent multiple phone calls helping me get the design right for a really tricky install for old house!
Exactly what we were looking for!
Perfect color, perfect size, perfect quality. Exactly what we were looking for!

We spent months trying to find the perfect shelves for our kitchen and we knew it needed to be custom. We put our trust in customfloatingshelves.com and everything came out exactly as we hoped. We did in fact hire a professional to install. We are looking for to using them again for our next project.
We are so happy with our shelves!
They arrived quickly, were packed with care and are such a high quality. The installation requires a little know-how but was not too difficult for my handy husband!
Would give it 6 stars
The only reason I am giving 5 start is because I can't give 6! Great product and experience with Custom Floating Shelves. The quality of the wood shelf with finish was excellent, the custom welded metal bracket was very sturdy and mounting was easy. I would order from them again.
Love these shelves from customfloatingshelves.com.
High quality and well built. Delivered as promised and packaged well, so even though the box was banged up a bit in route, the shelves inside were still well protected.
Picture shows the shelves installed but not yet painted. We ordered the U-Paint MDF shelves.
I'm still amazed that these shelves hold these heavy dishes.
Very happy with the results. Thanks.
Fantastic shelves
Fantastic shelves, with solid mounting (as demonstrated in the maker's video) and great build quality. I ordered the rift white oak unfinished, and stained it to match a quarter-sawn white oak TV stand. On time, and as promised.
Rock Creek Design + Build + Remodel
10 stars!!
From start to finish working with Billy and Kelly was a breeze. The website and ordering was so easy and straight-forward. Communication throughout the process was literally within minutes, but not more than a few hours. I am truly impressed. The quality of the shelves is amazing! Our team and more importantly our clients were estatic the end products. I have since ordered additional shelves and plan on ordering more as the clients projects require. 10 STARS!!!
THE PROFESSIONAL'S SOURCE FOR QUALITY CUSTOM FLOATING SHELVES
We're passionate about custom floating shelves
HAND-MADE FOR YOU IN BEAUTIFUL ST. PETERSBURG, FLORIDA
10
working day production lead time
Customize your floating shelves with the click of a button so you can match your shelves with your decor.

All of our floating shelves are made to order and available in 16 different finishes. Order a sample today.
Ready to install right out of the package.

Installation hardware is included in every custom floating shelf order. For information on how to install your custom floating shelves, visit our installation page.
Are the shelves solid wood or veneer?

Large pieces of solid hardwood cannot be relied on to stay flat and straight, it must be assembled in some type of structure that will influence it to stay that way. For floating shelves specifically, the cross-grain layers of  plywood core are better suited to the application. Nearly all the furniture-grade plywood we buy is made in the USA from domestic raw materials, with the exception of the face veneers on the Bamboo, Teak, and African Mahogany. Those trees only grow in other parts of the world. The core material of most of our panels we specify domestic materialfrom either Columbia Forest Products or Murphy depending on availability. The teak and bamboo core material is imported Baltic birch.
Are floating shelves strong?

The amount of weight a floating shelf can hold varies depending on things like the quality of the installation, the structure of the wall the shelf is attached to, size of the shelf, and how the weight is distributed. The shelves we make are very strong and can hold a lot of weight, we've put 150lbs on one shelf and it held fine. That doesn't mean a shelf attached to your wall will hold the same, it might hold twice that much or nothing at all. Our floating shelves require professional installation. Your contractor should be able to give you a good idea of what a shelf attached to your wall can hold once he has seen the installation information.
Can custom floating shelves be installed in a kitchen?

Yes, of course floating shelves can be used in the kitchen!

Our floating shelf design is plenty strong enough to hold stacks of dishes or just about anything you decide to load them up with.

These shelves require professional installation, it is not a weekend DIY sort of job. Please refer to the installation page for more information.
Can custom floating shelves be installed in a bathroom?

Yes, of course floating shelves can be used in a bathroom! These are not designed for use in a wet location like inside a shower or as a countertop for a vessel sink, though certainly can be used in a properly ventilated bathroom. Our wood shelves are finished with the same conversion varnish we use on quality custom cabinetry and furniture for kitchen and bath use.  The simple answer is anywhere you would normally place wood cabinetry is also acceptable for the shelves.
How do you add lights to floating shelves?
Shop the look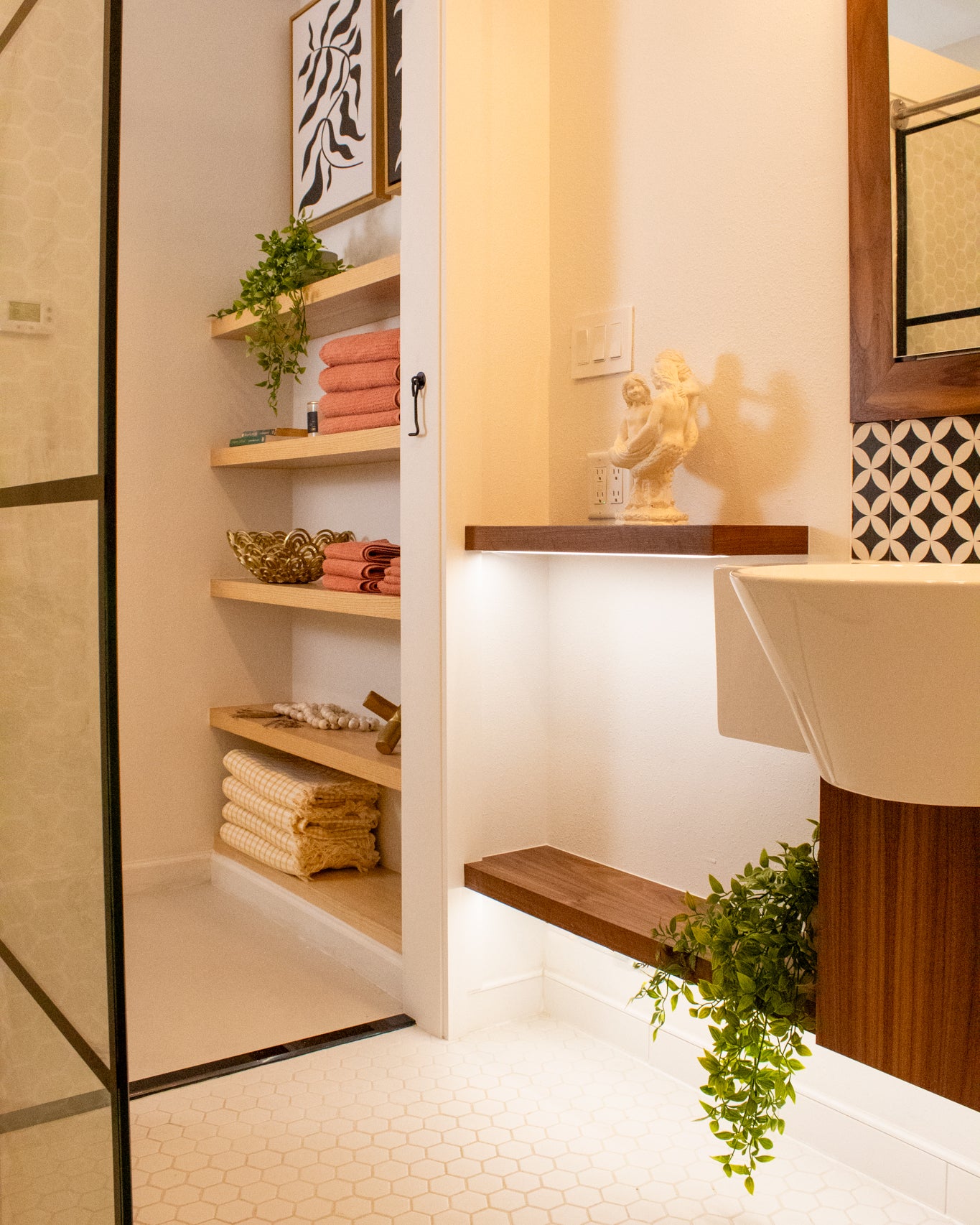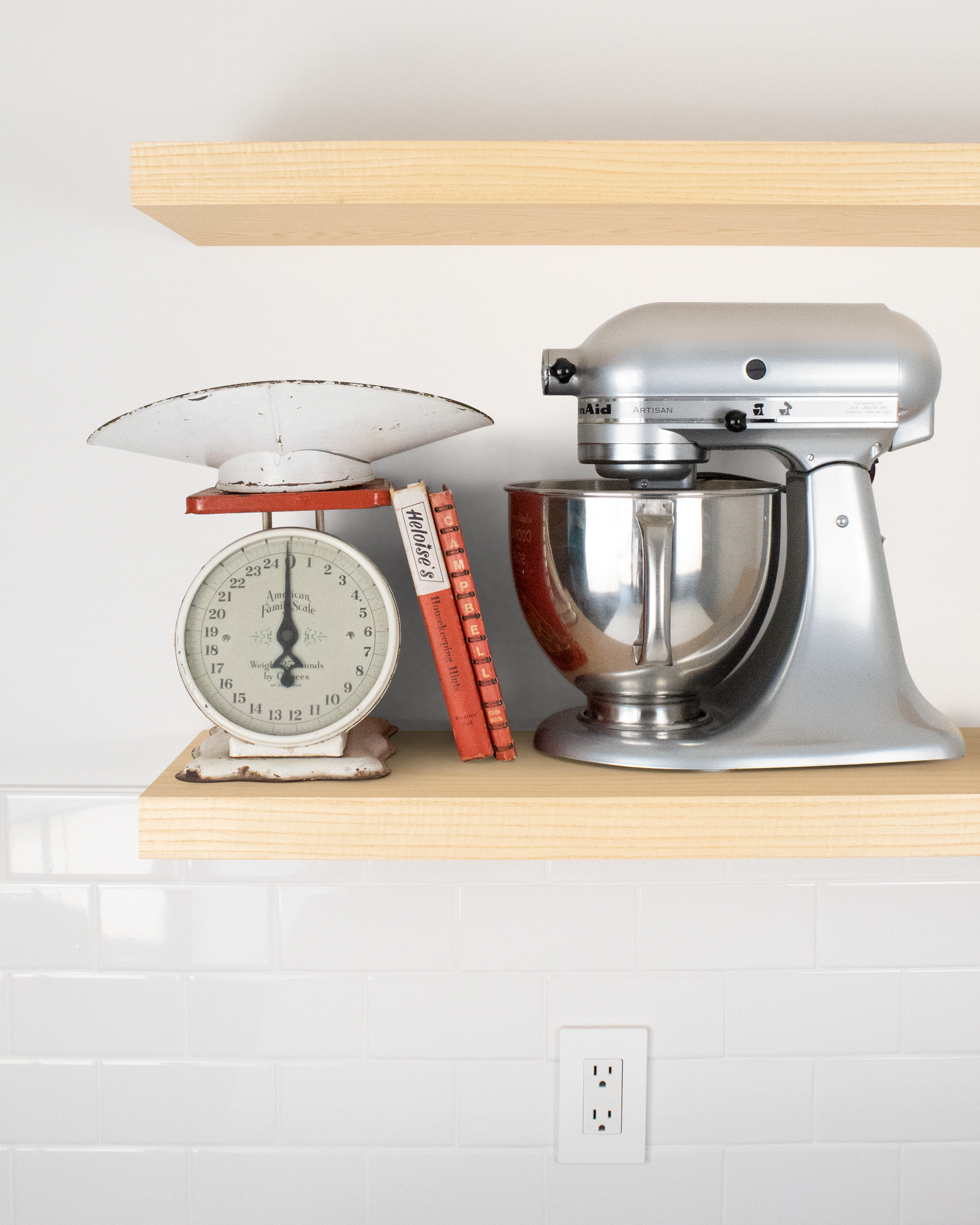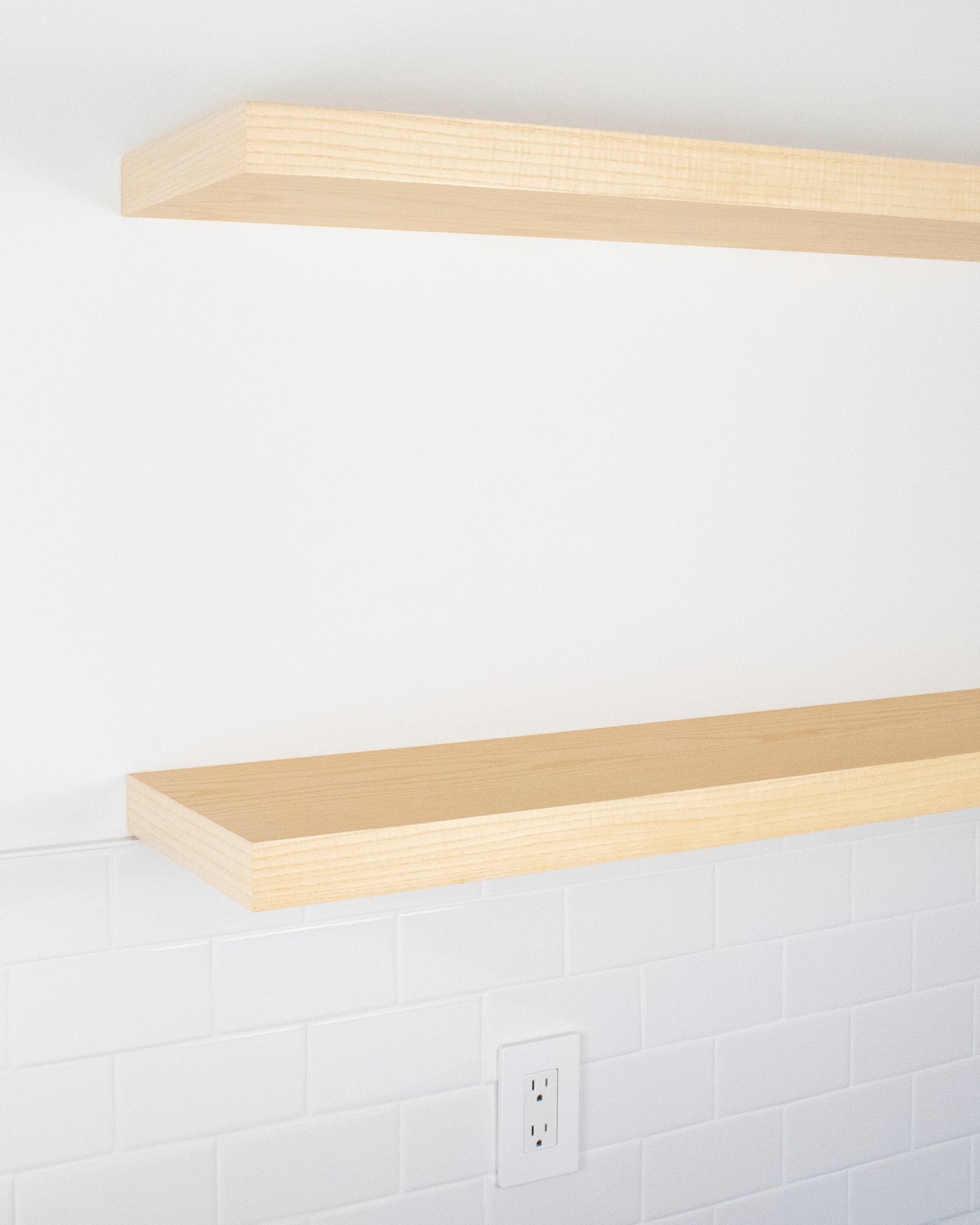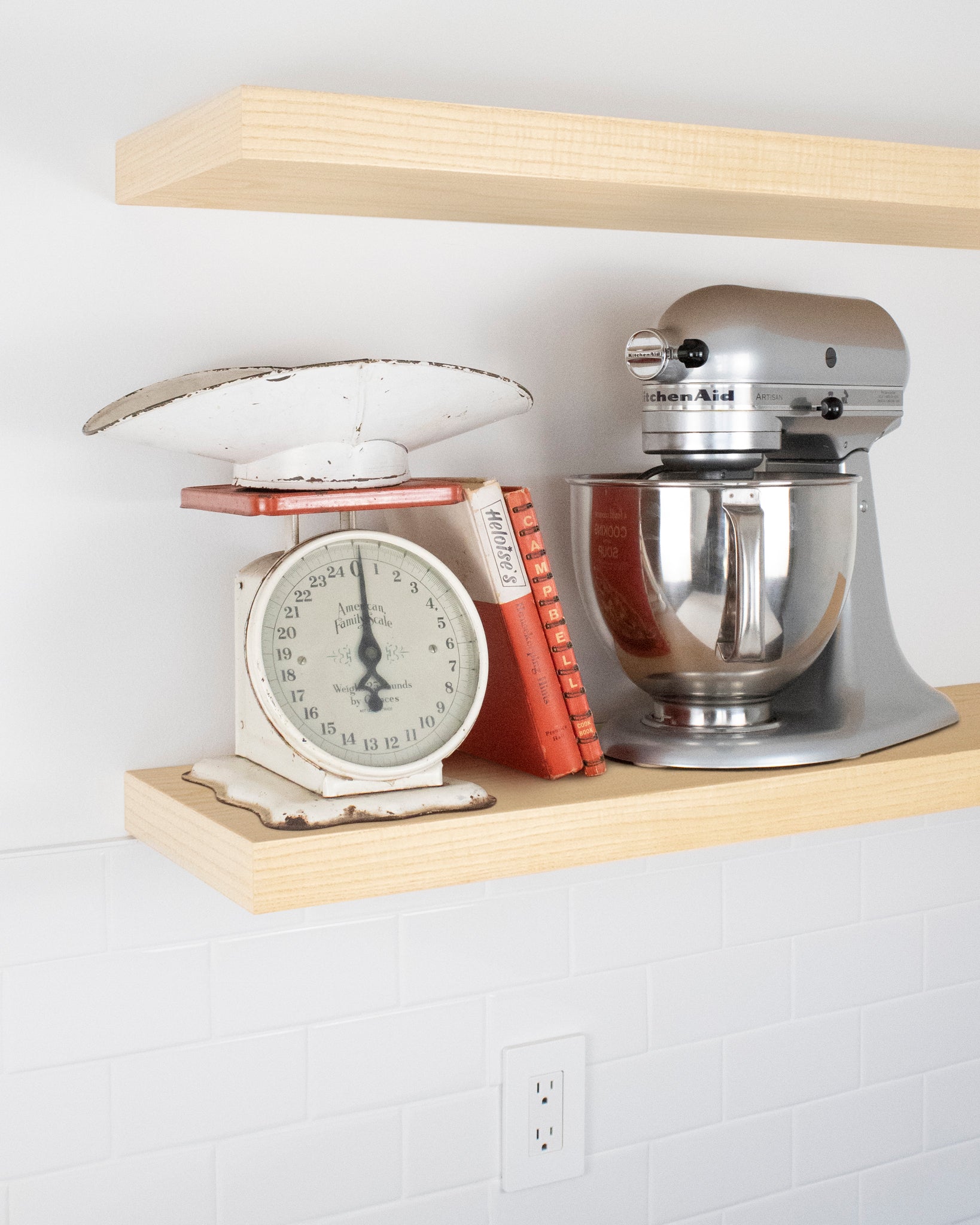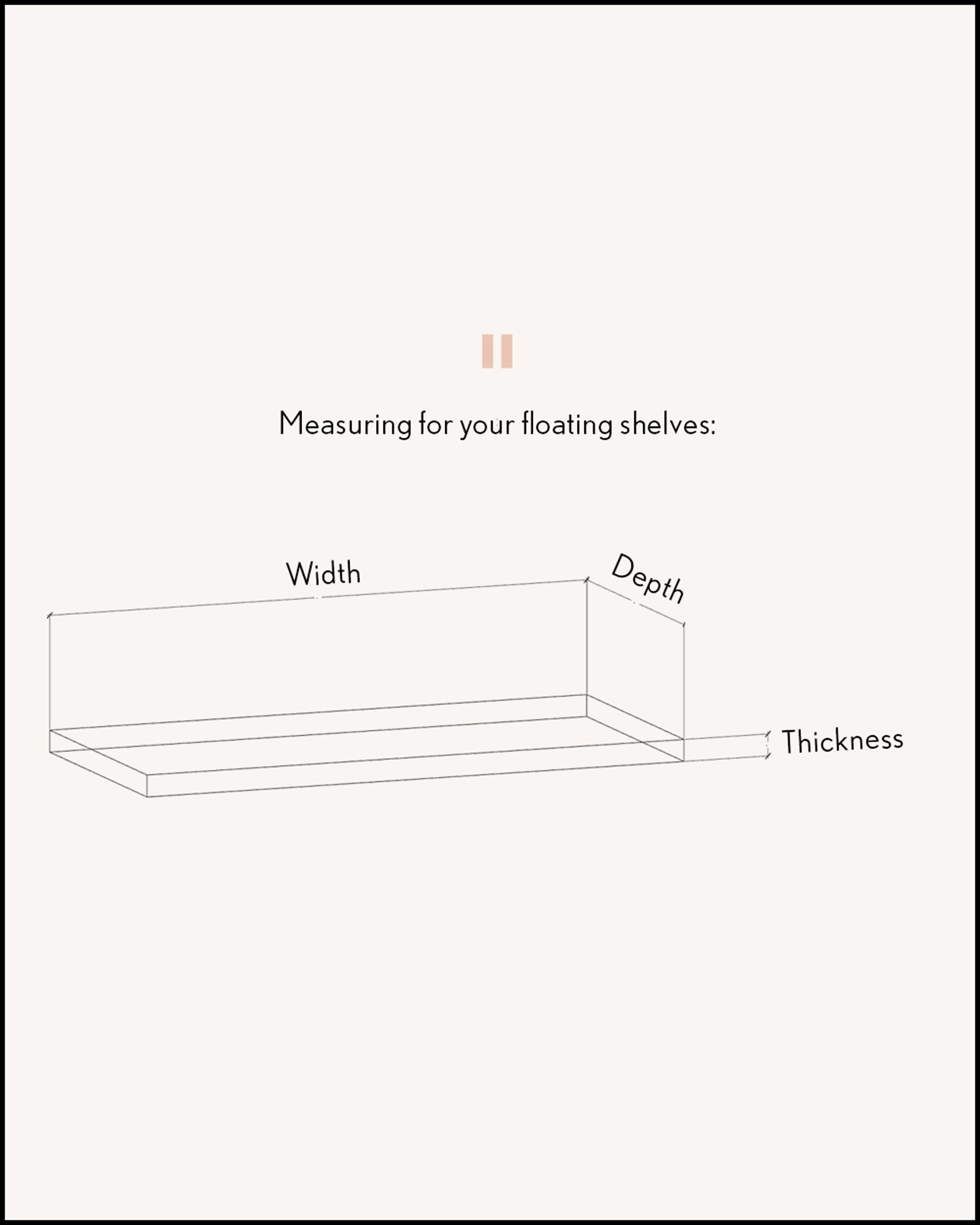 ---
These are ash floating wood shelves. Free shipping, custom made in USA to any size, ships in 10 working days, installation hardware included. Furniture-quality finish, topcoated with low-sheen clear lacquer. All shelves are made to order. (minimum size is 3" X 9", maximum is 16"X 93") All shelves are 1-3/4" thick.

Price includes mounting hardware, packaging and free delivery within the contiguous United States.
Our floating shelves have no visible bracket, yet are much stronger than you would expect, please see the installation guide video to learn more. Professional installation is required. The job requires tools and skills that are beyond most DIY'ers. Please refer to our installation information.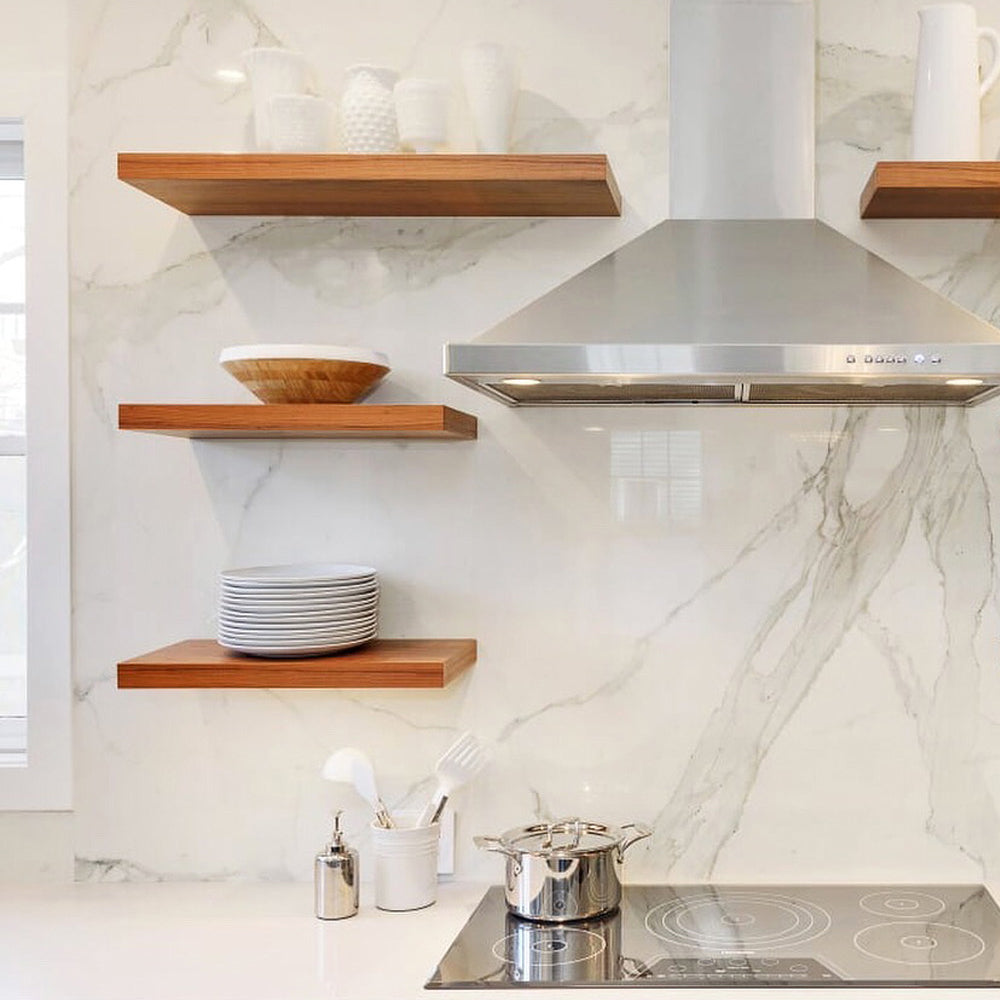 Take the guesswork out of installation
Our floating shelves were designed for the building professional. Lots of advanced DIY'ers have successfully installed our shelves however keep in mind some installations may require tools and skills that are beyond most DIY'ers in which case it's a job for a
seasoned and skilled finish carpenter.
WATCH THE INSTALL VIDEO
Installing your Custom floating shelves
How do you like to learn? We have in page installation instructions,
a Downloadable PDF Guide and an installation video. Take your pick.
Shelf Comparison
From floating shelves to corner shelves, explore our product line
Explore our various shelf options.
Custom Floating Shelves
übermächtig hardware with optional wood cleat ends
Ready to Ship Floating Shelves
ships in 1-2 working days
Corner Shelves
ships in 10-15 working days
Miter Corner Shelves ship in one piece with steel hardware. Corner Assembly uses our übermächtig hardware with wood cleat ends.
FROM FEATURED INSTALLATIONS TO RECIPES, EXPLORE OUR BLOG
What's new at Custom Floating Shelves
View all
  No matter whether you're dealing with new or old construction, walls are almost never straight or square enough to install woodwork without at least a little trimming. On a floating shelf install...
Trimming shelves to fit into a corner or niche
Shelves that will fit into a niche we build with open ends so these can attach to the walls on left and right with a wood cleat that attaches to the side walls. For shelves over 30" the steel brack...
Shop and buy wood floating shelves on customfloatingshelves.com Choose from 17 types of natural wood finished and unfinished professional grade wood floating shelves. Finished wood shelves are coa...